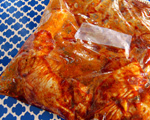 Prep: 5 min
Cook Time: –
Total: 5 min
Serving: Marinade for 1 3-pound chicken
The best way to marinate a chicken and guarantee exceptional flavor infusion is to place it in a large Ziploc bag along with the marinade of your choice. It also makes for easy clean up as well.
Ingredients
1/2 cup extra virgin olive oil
2-1/2 tablespoons fresh lemon juice
1-1/2 tablespoons brown sugar
1 tablespoon Espelette pepper or Spanish smoked hot paprika
1 tablespoon dried oregano
2 cloves garlic, sliced
1/2 teaspoon salt
1/4 teaspoon freshly ground black pepper
Directions
Put all of the ingredients into a bowl and whisk together until thoroughly blended.
Place the chicken into a large Ziploc bag and then pour in the marinade. Flip the bag around a few times to make sure chicken gets coated.
Remove the air from the bag, seal and place in the refrigerator for at least one hour or overnight, making sure to flip the bag a few times to mix.