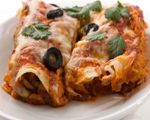 Prep: 20 min
Cook Time: 30 min
Total: 50 min
Serving: 6
Chicken enchiladas are a popular dish with countless variations. This version was inspired by mouth-watering childhood memories of my mom's enchiladas. Brought to you from The Fitness Kitchen by Shelly Sinton.
Ingredients
3 cups diced cooked chicken (about 3 boneless breasts)
1 cup chopped green onions (green and white parts)
1 (7 ounce) can diced green chiles
½ cup pitted, sliced black olives
½ cup light sour cream
1 tablespoon chile powder
Pinch salt
6 (9 inch) whole wheat flour tortillas
1 (19 ounce) can of mild (or hot) red chile sauce or enchilada sauce
1 cup shredded Monterey jack cheese
Directions
Preheat oven to 350 degrees F.
Spray 11 x 7 x 2 inch baking dish with nonstick cooking spray.
Mix chicken, green onions, chiles, olives, sour cream, and seasonings in a large bowl.
Set out 6 tortillas.
Warm enchilada sauce on very low heat in a large skillet.
Lightly dip both sides of one tortilla in the sauce and set at one edge inside the baking dish.
Place about ½ cup of chicken mixture in center of tortilla and fold up like a burrito, gently pushing it to the edge and resting it seam-side down.
Repeat with remaining tortillas.
Enchiladas should fit snug.
Pour remaining sauce over filled tortillas and sprinkle with cheese.
Cover with foil and bake for 20 minutes.
Remove foil and bake an additional 10 minutes to lightly brown the cheese.
Remove from oven and serve warm.