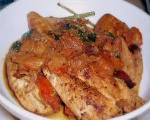 Prep: 30 min
Cook Time: 2 hr
Total: 2 hr 30 min
Serving: 4-6 servings
Chicken and vegetable dish.
Ingredients
1 chicken, 2-3 pounds
2 teaspoons salt
1 cup flour
1 teaspoon pepper
1/2 cup bacon fat
4 carrots
4 potatoes
4 onions
1 green pepper
2 cups stewed tomatoes
3 cups water
Directions
Quarter the chicken and roll in the flour and 1 teaspoon salt.
Heat the fat in a skillet and brown the chicken.
Scrape the carrots and potatoes, peel the onions and chop the pepper.
In a separate bowl mix together the remaining salt, pepper, tomatoes and water.
Layer the vegetables in the bottom of a heavy pot, top with the chicken, and top with the tomato mixture.
Cover the pot and bring to a boil. Reduce to medium low heat and cook for 1 1/2-2 hours, or until tender.