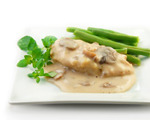 Prep: 5 min
Cook Time: 25 min
Total: 30 min
Serving: 4 Servings
Serve these chicken cutlets smothered in a creamy pesto-based sauce accompanied with a side of steamed green beans and a glass of American Sauvignon Blanc.
Ingredients
1-1/2 pounds chicken boneless breasts, pounded thin
2 tablespoons sour cream, or to taste
2 tablespoons Dijon mustard, or to taste
2 tablespoons pesto, or to taste
Salt and fresh pepper
2 tablespoons olive oil
1/2 sliced mushrooms
flour
Directions
Place some flour into a shallow bowl.
Sprinkle the chicken cutlets with a few pinches of salt and pepper, and then dredge in the flour to coat.
Coat the bottom of a large frying pan with the olive oil and then set over medium-high heat. Cook the cutlets for 8 minutes on each side and then remove and transfer to a plate.
Add the sour cream, mustard, mushrooms and pesto to the pan and cook over medium heat for 3 while stirring frequently.
Place the cutlets back into the pan and cook over low heat for 6 minutes. Serve immediately.