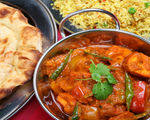 Prep: 20 min
Cook Time: 5 hr 30 min
Total: 5 hr 50 min
Serving: 2
If you like the taste of curry, you will love this dish.
Ingredients
1 onion sliced
2 boneless, skinless chicken breast halves, cut into 1/2 inch pieces
1 clove garlic, minced
1 tsp. curry powder
1/4 tsp. ginger
3 tbsp. raisins
1 cup coarsely chopped apple, divided
1 1/2 tsp. chicken bouillon granules
1 1/2 tsp. flour
1/3 cup water
1/4 cup sour cream
1/2 tsp. cornstarch
1/2 cup uncooked white rice
Directions
Combine onion, chicken, garlic, curry powder, ginger, raisins and 3/4 cup chopped apple in crock pot.
In a bowl combine chicken bouillon granules, flour and water.
Blend until dissolved.
Pour into crock pot.
Cover and cook on low 3 1/2 to 4 hours.
Combine sour cream and cornstarch in large bowl. Turn off crock pot.
Drain all cooking liquid from chicken mixture into a bowl and stir into sour cream mixture.
Pour mixture in the crock pot.
Stir well.
Cover and let stand until sauce is heated through.
Meanwhile, cook rice according to package directions.
Serve chicken curry over rice.
Garnish with remaining 1/4 cup apple and parsley.