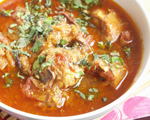 Prep: 20 min
Cook Time: 40 min
Total: 1 hr
Serving: 4 to 6 servings
Meals with curry taste best when prepared ahead but served later, so the flavors can develop and intermingle with one another. Serve this dish with a cooked basmati or jasmine rice.
Ingredients
2 large onions
1 tablespoon peeled fresh ginger
3 cloves garlic
3 medium potatoes
5 tablespoons cooking oil
4 tablespoons curry powder
10 chicken drumsticks
8 ounces sour cream
1 cup water
Salt to taste
1/2 cup roughly chopped cashews
chopped fresh cilantro to garnish
Directions
Place the onions, ginger and garlic in a food processor until finely minced.
Peel and cut the potatoes into quarters.
In a Dutch oven or a 5- to 6-quart heavy pot, heat the oil on medium-low heat and cook the onion mixture until fragrant, about 5 minutes. Sprinkle in the curry powder and continue to cook, mixing well, for another 2 minutes.
Add the chicken and the potatoes, cover and cook for two minutes. Pour in the sour cream and water and mix well. Add salt to taste. Bring mixture to a boil and then reduce heat. Simmer, covered, for approximately 30 minutes.
Serve sprinkled with cashews and chopped cilantro.