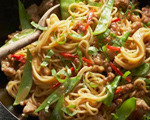 Prep: 10 min
Cook Time: 10 min
Total: 20 min
Serving: 4 Servings
This classic Chinese-American dish is modernized with the addition of chicken sausage and a fresh orange-juice based sauce. Serve this simple dinner meal with a bottle of Frascati wine.
Ingredients
5 tablespoons vegetable oil
1 pound fresh plain chicken sausages, cut into 1/2-inch pieces
4 cloves garlic, minced
2 tablespoons minced ginger
4 ounces snow peas, cut in half
2 fresh, hot long red chiles seeded and thinly sliced
1/3 cup fresh orange juice
1/2 pound fresh or dried Chinese egg noodles, cooked
1 cup chicken stock mixed with 3 tablespoons of hoisin sauce and 2 teaspoons of cornstarch
Salt
1/2 cup slivered basil leaves
Directions
Place 2 tablespoons of the vegetable oil into a wok and heat over high heat. Once the oil begins to shimmer, add the chicken sausage and cook for 3 minutes, stirring frequently. Remove the sausage from the work and set aside.
Put the remaining oil into the wok and then add the garlic and ginger. Cook the mixture for 2 minutes and then add the snow peas and chiles and cook for 1 additional minute.
Add the orange juice to the pan, cook the mixture for 30 seconds and then stir in the cooked sausage, noodles and chicken stock mixture. Stir the mixture well to combine, cook for 2 minutes to thicken and then add the basil. Serve immediately.