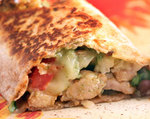 Prep: –
Cook Time: –
Total: –
Serving: Serves 4
Treat your family to a fresh take on the heavy, usually fried chimichanga. Filled with spicy citrus-kissed chicken, this phyllo-wrapped rendition is healthier and easier than deep-frying.
Ingredients
1/4 cup olive oil, divided
Zest and juice of 1 small orange
Zest and juice of 1 lemon
Zest and juice of 1 lime
1/4 cup chopped fresh cilantro
Generous pinch of salt
1 teaspoon chili powder
1 pound boneless, skinless chicken breasts, diced
1 (15-ounce) can pinto beans, rinsed
8 sheets phyllo dough
1 onion, halved, thinly sliced
2 red bell peppers, halved, seeded, thinly sliced
Freshly ground black pepper
Guacamole
Sour cream
Shredded cheese
Directions
In a large bowl, whisk together 2 tablespoons olive oil, all the citrus zests and juices, cilantro, salt and chili powder. Add chicken breast, cover tightly and refrigerate overnight.
When ready to cook, preheat oven to 350 degrees F. and spray a baking sheet with cooking spray. Heat 1 tablespoon olive oil in a large skillet over medium-high heat. Remove chicken from marinade, discarding marinade. Cook chicken, stirring often, until cooked through. Add beans to chicken and cook, stirring, for 1 to 2 minutes. Add 1 to 2 tablespoons water if skillet dries out. Remove from heat and set aside to cool.
Unwrap phyllo and place one sheet on a flat surface. Spray with cooking spray and top with a second sheet of phyllo. Spray with cooking spray and spread one-fourth of the chicken mixture on phyllo, leaving a border around the edges. Roll up burrito style and set on the prepared baking sheet, seam side down. Repeat with remaining phyllo and filling. Bake for 20 minutes or until phyllo is crisped and golden.
Meanwhile, heat remaining 1 tablespoon olive oil in a large skillet over medium-high eat and cook onion and peppers, stirring often, until tender and lightly browned. Season with salt and black pepper to taste.
To serve, divide vegetables among four dinner plates. Cut chimichangas in half and place two halves on each bed of vegetables. Garnish with guacamole, sour cream and cheese.