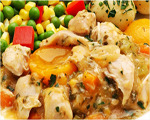 Prep: 15 min
Cook Time: 1 hr 10 min
Total: 1 hr 25 min
Serving: 6
Chicken Casserole Angostura is full of vegetables and a savory sauce.
Ingredients
1, 3 to 4 pound chicken, cut up
salt and pepper to taste
flour
4 tablespoons butter
4 carrots, diced
2 small turnips, diced
2 onions, diced
3 medium potatoes, diced
6 medium tomatoes, peeled and sliced
1 teaspoon sugar
2 chicken bouillon cubes
1 tablespoon Angostura aromatic bitters
Directions
Season chicken with salt and pepper. Coat chicken with flour. Brown chicken in butter in skillet. Remove chicken from skillet.
Brown carrots, turnips, onions and potatoes in pan drippings. Add tomatoes, 1/2 teaspoon satl, 1/4 teaspoon pepper and sugar, stirring to blend. Remove vegetables. Dissolve bouillon cubes in 2 cups boiling water.
Blend 2 tablespoons flour into pan drippings. Add bouillon and bitters gradually. Cook until slightly thickened, stirring constantly.
Arrange vegetables in bottom of deep casserole. Pour half the gravey over vegetables. Arrange chicken pieces over vegetables. Pour remaining gravy over top. Bake covered, at 350 degrees F for 45 minutes.