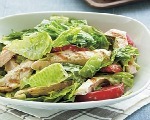 Prep: 15 min
Cook Time: 15 min
Total: 30 min
Serving: Serves 4 people
This classic salad, Chicken Caesar Salad, is guilt-free by using low-fat ingredients.
Ingredients
4 small boneless, skinless chicken breast halves
1 package (9 ounces) of frozen artichoke hearts, thawed
1-1/2 cups of cherry tomatoes, quartered
1/4 cup, plus 2 tablespoons, of plain non-fat yogurt
2 tablespoons reduced-calorie mayonnaise
2 tablespoons of grated Romano cheese
1 tablespoon of sherry or red wine vinegar
1/2 teaspoon of anchovy paste
1 clove of garlic, minced
1/2 teaspoon of Dijon mustard
1/2 teaspoon of ground white pepper
1 small head of romaine lettuce, torn into bite-sized pieces
1 cup of toasted croutons
Directions
Grill or broil the chicken breasts until they are no longer pink in the center. Once cooked, set aside.
Combine the artichoke hearts, tomatoes and lettuce in a medium-sized bowl.
In a small bowl, whisk together the yogurt, mayonnaise, Romano cheese, sherry, garlic, anchovy paste, mustard and white pepper. Whisk until smooth. Toss gently with the artichoke hearts, tomatoes and lettuce to coat evenly.
Place the salad mixture in a large severing dish or salad bowl.
Thinly slice the chicken breast and place on top of the lettuce mixture. Sprinkle with the croutons.