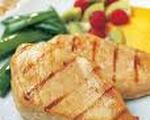 Prep: 45 min
Cook Time: 25 min
Total: 1 hr 10 min
Serving: 4
Chicken Bundles are a great lunch when served with a tossed green salad and cut up fruit.
Ingredients
1, 8 ounce can Pillsbury Crescent rolls
Blend together: 3 ounces cream cheese
2 tablespoons butter, melted
1/4 cup green onions, sliced
1/2 teaspoon garlic salt
2 tablespoons milk
1/4 teaspoon salt
1/4 teaspoon pepper
2 cups cooked chicken, cut up
Directions
Separate crescent rolls into 4 rectangles. Pinch edges together.
Spoon 1/2 cup blended chicken mixture into each rectangle.
Pull 4 corners of the dough up to center around mixture. Pinch openings shut. Bake at 350 degrees F on an ungreased cookie sheet for 20-25 minutes or until golden brown.