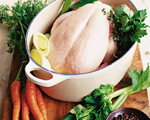 Prep: 1 hr
Cook Time: 90 min
Total: 2 hr 30 min
Serving: Makes 6-8 servings
Use this as a base for chicken and vegetable soups. It adds rich and deep flavor.
Ingredients
1 (2 to 3 pounds) Fryer Chicken
1 to 1-1/2 pounds Chicken Bones and Scraps
2 Celery Stalks, roughly chopped
1 medium White Onion, chopped into wedges
2 medium Tomatoes, chopped into wedges
4 quarts Cold Water
1 tablespoon Coarse Salt
Directions
Put the chicken, chicken bones, chopped celery, chopped white onion, tomato, water and salt in a stockpot and place over medium heat.
Once the mixture boils, turn down the heat to low and simmer for 90 minutes, skimming off any fat from the top and discarding.
Strain the mixture through cheesecloth and discard any solids.
Add a few pinches of salt to the broth and then allow to cool slightly before placing in the refrigerator until ready to use.