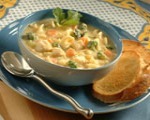 Prep: –
Cook Time: 20 min
Total: 20 min
Serving: 8 servings
A creamy chicken and broccoli stew. A wonderful and quick dinner.
Ingredients
2 (14 ounce) cans chicken broth
1 bunch green onions, finely chopped, divided
1 1/2 cups mashed potato flakes
1 (10 ounce) package frozen chopped broccoli
2 1/2 cups cooked, cut-up chicken breasts
1 (8 ounce) carton whipping cream
1 cup milk
1 (8 ounce) package shredded mozzarella cheese
Directions
Add the broth, green onions and broccoli to a large pot and bring to a boil. Reduce to a simmer for 5 minutes.
Mix in the potato flakes until well blended. Stir in the chicken, cheese, cream, milk, 1 cup of water and a dash of salt and pepper. Heat on medium, stirring frequently, until the cheese has melted. About 5 minutes.
Garnish with the additional green onions.