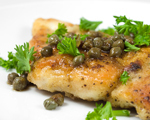 Prep: 10 min
Cook Time: 20 min
Total: 30 min
Serving: 4 Servings
The word "piccata" means slice in Italian but for Americans, it's a delicious dish consisting of butterflied chicken with a lemon juice, wine and caper sauce. Serve over pasta or with a side of polenta or rice.
Ingredients
2 skinless and boneless chicken breasts, butterflied and then cut in half
Sea salt and freshly ground black pepper
I cup all–purpose flour, for dredging
6 tablespoons unsalted butter
4 tablespoons extra-virgin olive oil
1/3 cup fresh lemon juice
1/2 cup chicken stock
1/4 cup wine
1/4 cup brined capers, rinsed
1/3 cup fresh parsley, chopped
Directions
Place the flour in a shallow bowl. Sprinkle the chicken with some salt and freshly ground pepper and then dredge in flour, shaking off any excess.
In a large-sized sauté pan, heat 2 tablespoons of butter with 2 tablespoons of the oil over medium heat until hot but not smoking. Put two pieces of chicken into the pan and cook, flipping once, for 3 minutes on each side until golden brown. Transfer chicken to a plate and set aside.
Place an additional 2 tablespoons of butter into the pan and another 2 tablespoons of olive oil and continue to cook the remaining chicken as described above, then set aside.
Pour the lemon juice, stock and wine into the pan while scraping up any bits of food that have stuck to the bottom of the pan. Add the capers and add a pinch of salt and pepper.
Return the chicken to the pan and simmer for 10 minutes. Remove chicken and set aside on a serving dish, keeping warm.
Whisk in the remaining 2 tablespoons of butter until sauce is well blended. Pour over chicken and sprinkle dish with chopped parsley. Serve immediately.