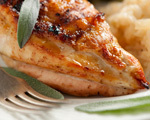 Prep: 30 min
Cook Time: 50 min
Total: 1 hr 20 min
Serving: 4 People
Healthy and delicious dinner the whole family will love! The light yogurt marinade makes this chicken dish moist and tender with loads of flavor!
Ingredients
½ cup Dannon all-natural plain yogurt
¼ cup low-fat mayonnaise
1/3 cup green onions, diced
3 tablespoons Dijon mustard
1 tablespoon Worcestershire sauce
½ teaspoon dried thyme
½ teaspoon cayenne pepper
¼ cup parmesan cheese, grated
1 tablespoon lemon juice
½ teaspoon salt
½ teaspoon pepper
4 skinless, boneless chicken breasts
Directions
Combine Dannon yogurt, mayonnaise, green onions, Dijon mustard, Worcestershir sauce, dried thyme, cayenne pepper, salt, pepper, and lemon juice in a small bowl. Stir to mix and pour into large plastic bag. Place chicken breasts in bag and seal. Turn bag to coat chicken in marinade. Refrigerate 8 hours or overnight. Place chicken in medium casserole dish and pour marinade over chicken. Bake for 45 minutes at 300°F. Pull chicken out and sprinkle with parmesan cheese. Place casserole on top rack in oven with broiler on for 4 minutes or until cheese melts. Serve!