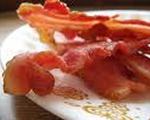 Prep: 20 min
Cook Time: 10 min
Total: 30 min
Serving: 4
Chicken Bacon Nuggets are kid friendly and make a great appetizer.
Ingredients
2 whole large chicken breasts
1/4 cup orange marmelade
2 tablespoons soy sauce
1/2 teaspoon salt
1/2 teaspoon ground ginger
1/8 teaspoon garlic powder
1, 8 ounce package sliced bacon
about 24 toothpicks
Directions
Cut each chicken breast lenghtwise in half; remove skin and bones; then cut each half into 6 chunks. In medium bowl, mix chicken, marmalade, soy sauce, salt, ginger and garlic powder; set aside.
Preheat broiler. Arrange bacon slices on rack in broiling pan. Broil bacon 4 minutes or until partially cooked, turning once. Cut each bacon slice crosswise in half.
Wrap each piece of chicken with a piece of bacon; secure with a toothpick. Place bacon-wrapped chicken on rack in broiling pan; broil 5 minutes or until chicken is fork tender, turning nuggets once and brushing with marmalade mixture remaining in bowl. Remove toothpicks before serving.