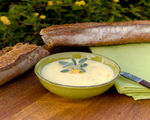 Prep: 20 min
Cook Time: 5 hr 15 min
Total: 5 hr 35 min
Serving: 6
Brought to you from the 50+ Friends Club Cookbook.
Ingredients
1 pound boneless skinless chicken breasts, cut into 1-inch pieces
10 ounces frozen broccoli cuts
1 cup sliced carrots
1/2 cup chopped onion
1/2 cup whole kernel corn
1 jar sliced mushrooms, drained (4 1/2 ounces)
2 cloves garlic, minced
1/2 teaspoon dried thyme leaves
1 can reduced-sodium chicken broth (14 1/2 ounces.)
1 can condensed cream of potato soup (10 3/4 ounces)
1/3 cup half and half
Directions
Combine all ingredients except half and half in crock pot.
Cover and cook on low 5 hours or until vegetables are tender and chicken is no longer pink in center.
Stir in half and half.
Turn to high.
Cover and cook 15 minutes or until heated through.