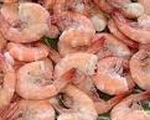 Prep: 20 min
Cook Time: 45 min
Total: 1 hr 5 min
Serving: 6
Chicken and Shrimp Scampi is a great combination of favorite flavors. Serve over hot cooked rice.
Ingredients
6 chicken breasts, skinless, boneless, halved
1 tablespoon salt
1/2 teaspoon pepper
1/4 cup butter
3 small onions, finely chopped
1 garlic clove, minced
3 tablespoon snipped parsley
1/2 cup port wine
1, 8 ounce can tomato sauce
1 teaspoon dry basil
1 pound raw shrimp, deveined
parsley to garnish
Directions
Rub chicken with salt and pepper. In hot butter, in large skillet, saute chicken until golden on all sides. Add onions, garlic, snipped parsley, wine, tomato sauce and basil. Simmer covered about 30 minutes or until tender.
Push chicken to one side in skillet, turn heat up so tomato mixture boils. Add shrimp, then cook uncovered for 3 to 4 minutes or until shrimp is pink and tender.
Place chicken on a platter, add shrimp and pour sauce over top. Garnish with parsley.