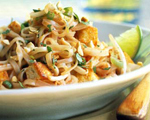 Prep: 25 min
Cook Time: 6 min
Total: 31 min
Serving: 4 Servings
Pad Thai is a popular noodle dish made of stir-fried noodles, egg, peanuts, shallots, sprouts, tofu and a choice of meat. If you don't have a wok, use a heavy pan instead.
Ingredients
8 ounces dried Thai noodles
1/4 cup fish sauce
2 tablespoons rice wine vinegar
2 tablespoons sugar
1/4 pound peeled and de-veined raw shrimp, halved lengthwise
1 chicken breast, cubed
1/4 teaspoon cayenne
3 tablespoons peanut oil
3 cloves garlic, minced
2 shallots, minced
2 large eggs
2 cups bean sprouts
2 cups green onions, sliced
1/4 cup roasted unsalted peanuts, chopped
1/4 cup fresh cilantro, minced
1 tablespoon fresh lime juice
Directions
Fill a large bowl with warm water and then add the noodles to soak for about 20 minutes. Drain and set aside.
Mix the fish sauce, vinegar and sugar together in a small bowl and set aside.
In a large bowl, sprinkle the shrimp and chicken with the cayenne pepper and set aside.
Heat the peanut oil in a wok over medium-high heat and add the garlic and shallots. Stir-fry for 30 seconds and then add the shrimp and the chicken and continue to cook for two minutes. Remove all the ingredients from the wok and transfer to a plate. Keep warm.
Crack the eggs and add to the wok, stirring for 45 seconds, then mix in the sprouts, onions, fish sauce mixture and noodles. Cook for two minutes and then add the shrimp, chicken and peanuts to the wok. Cook for 40 seconds and then transfer to a serving bowl. Sprinkle with the cilantro and fresh lime juice and serve immediately.