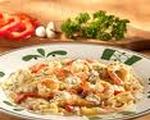 Prep: 30 min
Cook Time: 10 min
Total: 40 min
Serving: Serves 8
Carbonara is a hearty Italian dish that combines chicken and/or shrimp along with pasta and a cream sauce. This recipe is baked and topped with seasoned breadcrumbs. It's a delicious meal that your whole family will enjoy.
One of the more traditional dishes, carbonara is a staple in most Italian restaurants and homes. The Olive Garden was kind enough to share this recipe for delicious chicken and shrimp carbonara.
This at home version of the popular dish served in their restaurants is sure to please your hungry family.
Ingredients
1 cup extra-virgin olive oil
1 cup hot water
1 tablespoon Italian seasoning
1 tablespoon chopped garlic
3 pounds chicken strips or large shrimp, peeled and deveined
1 cup butter
1 1/2 teaspoons chopped garlic
3 tablespoons bacon bits
3 tablespoons flour (all-purpose)
1 cup Parmesan cheese (grated)
4 cups heavy cream
4 cups milk
1/4 cup bacon base
1/2 teaspoon black pepper
2, 14-ounce boxes of any long pasta (spaghetti, linguine, etc.) cooked using instructions on package
1/4 teaspoon salt
3 tablespoons Romano cheese, grated
3 tablespoons Parmesan cheese, grated
1 3/4 cups mozzarella cheese, shredded
1/2 cup panko breadcrumbs
1 1/2 teaspoons chopped garlic
1 1/2 tablespoons melted butter
2 tablespoons parsley, chopped
1 1/2 cups roasted red peppers, cut into small strips
1/4 cup bacon bits
Directions
Preheat oven to 350 degrees F.
Whisk extra-virgin olive oil together with hot water, seasoning, and chopped garlic. Add the chicken strips (or shrimp). Cover and refrigerate for at least 30 minutes.
Melt butter in a large saucepan over medium heat. Add garlic and bacon bits. Sauté for 5 minutes, stirring frequently.
Add flour, Parmesan cheese, heavy cream, milk, bacon base, pepper, and salt. Use a wire whisk to whip all ingredients together. Bring to a boil. Reduce heat and allow to simmer.
Combine Romano, Parmesan, mozzarella, panko, chopped garlic, melted butter, and chopped parsley in a mixing bowl. Stir until well blended. Set aside.
Preheat large skillet. Add chicken (or shrimp) to pan. Add red peppers and bacon bits. Cook for 3 more minutes, or until cooked on both sides and internal temperatures reach 165 degrees F for chicken and 155 degrees F for shrimp.
Add sauce (from above). Stir until well blended.
Place hot, precooked pasta on a large serving platter. Top with chicken (or shrimp) and sauce.
Evenly distribute topping over top of chicken (or shrimp). Place in broiler until top is golden brown. Serve immediately and enjoy.