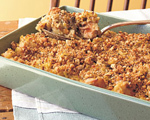 Prep: 10 min
Cook Time: 12 min
Total: 22 min
Serving: 8 servings
A classic American dish, use leftover or rotisserie chicken from the supermarket for this quick and easy meal.
Ingredients
6 tablespoons butter (3/4 stick)
8 ounces mushrooms, sliced (3 cups)
1/2 cup all-purpose flour
2 cups chicken broth
1-1/2 cups milk or half-and-half
4 cups cooked chopped chicken
3 cups cooked rice
1/2 cup chopped walnuts, almond or pecans
1/2 cup dry bread crumbs
2 tablespoons grated Parmesan
1 tablespoon melted butter
Directions
Preheat your oven to 400 degrees and grease a 13x9-inch baking dish.
Place the 6 tablespoons of butter into a large saucepan and melt over medium heat.
Add the mushrooms, stir to coat and then sauté for 5 minutes.
Sprinkle in the flour and whisk the mixture to combine, then slowly pour in the broth and the cream and continue to whisk until blended.
Bring the mixture to a boil and then reduce the heat to medium-low. Add the chicken, rice and nuts and stir to combine.
Transfer the mixture to the prepared dish and sprinkle with the bread crumbs, parmesan and melted butter.
Place in the oven for 30 minutes or until golden brown.