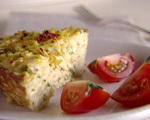 Prep: 5 min
Cook Time: 6 min
Total: 11 min
Serving: 4 Servings
Grab your leftover chicken, vegetables and pasta to make this delicious breakfast frittata.
Ingredients
1 cup broccoli florets, cooked
1 medium onion, chopped (1/2 cup)
2 tablespoons olive oil
1-1/4 cups cooked penne or desired pasta
1 cup chopped cooked chicken
2 tablespoon chopped fresh basil
Salt and freshly ground pepper
8 eggs, lightly beaten
1/2 cup shredded mozzarella cheese
Directions
Preheat your oven to 400 degrees.
Place the oil in an oven-safe skillet and heat over medium-high heat. Once the oil begins to shimmer, add the onion and cook for 4 minutes, stirring frequently.
Stir in the broccoli, penne, chicken and basil and sprinkle the mixture with some salt and pepper. Cook the mixture for 2 minutes and then pour in the eggs.
Reduce the heat to medium and allow the egg to set, then sprinkle with the cheese and place in the oven for 6 minutes. Serve hot with a few grinds of freshly ground black pepper.