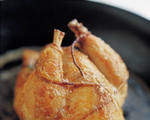 Prep: 15 min
Cook Time: 1 hr 30 min
Total: 1 hr 45 min
Serving: 6
Chicken and Mac Stew has lots of macaroni for the pasta lover.
Ingredients
1, 3 pound broiler-fryer chicken, cut up
1/4 cup flour
2 teaspoons paprika
salt
1/2 teaspoon pepper
1/4 cup vegetable oil
2 medium onions, sliced thick
1, 28 ounce can tomatoes
1/4 bunch fresh parsley
2 teaspoon poultry seasoning
2 garlic cloves
1/4 teaspoon hot pepper sauce
2 cups elbow macaroni
1, 10 ounce package frozen peas, partially thawed
Directions
On waxed paper, combine flour, paprika, 2 teaspoons salt and pepper; coat chicken with flour mixture.
In Dutch oven over medium-high heat, in hot oil, brown chicken until golden; remove chicken. Add onions to Dutch oven and cook until tender-crisp, stirring occasionally.
Add chicken, tomatoes, parsley, 2 teaspoons salt, poultry seasoning, garlic, hot pepper sauce and 1 cup water. Cook, covered, over low heat about 45 minutes, until chicken is fork tender. Remove from heat; discard parsley and garlic cloves and skim off any excess fat.
Add macaroni and cook, covered, over medium-high heat 10 minutes, stirring occasionally. Add peas and cook, covered, over low heat 10 minutes or until tender.