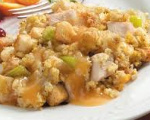 Prep: 45 min
Cook Time: 40 min
Total: 1 hr 25 min
Serving: 4-6 servings
Chicken and vegetables with breading.
Ingredients
1 hen
1 bunch celery, chopped
2 green peppers, quartered
1 onion, quartered
2 cups rice, cooked
4 cups crumbled cornbread
2 cups cracker crumbs
4 eggs, boiled and chopped
1 tablespoon mustard
3 tablespoons mayonnaise
3 tablespoons pickle relish
1 1/2 teaspoons salt
2 teaspoons pepper
1 teaspoons sage
Directions
Place the chicken in a large pot and cover with water. Toss in the celery, pepper and onion. Boil until tender. Remove the meat and vegetables from the broth. Remove the chicken from the bone.
Combine the rice, bread, crackers and eggs with 5 1/2 cups of the cooking broth. Stir in the mustard, mayonnaise, relish, salt, pepper and sage. Stir in the chicken.
Bake at 400 degrees Fahrenheit for 40 minutes.