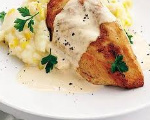 Prep: 10 min
Cook Time: 45 min
Total: 55 min
Serving: 5-7 servings
Ingredients
1 chicken
1 teaspoon salt
1 teaspoon pepper
1 teaspoon paprika
1 egg
1/2 cup water
1 cup flour
1 1/2 cups water
1 1/2 cups chicken broth
1/2 cup light cream
Directions
Slice the chicken into frying pieces. Season with 1/2 teaspoon salt, 1/2 teaspoon pepper and 1/2 teaspoon paprika over chicken. Let set for 1 hour.
Beat the egg and water together. Dip the chicken in the egg mixture and roll in flour. Reserve 4 tablespoons of the flour aside for the gravy. Pan fry the chicken until cooked through. Remove and drain.
Remove all but 4 tablespoons of the drippings. Stir in the flour until browned. Add the remaining salt and pepper. Slowly stir in the water, milk and cream.
Place the chicken in the gravy and simmer for 5-10 minutes.