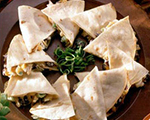 Prep: 10 min
Cook Time: 12 min
Total: 22 min
Serving: 36 appetizers
A delicious appetizer for a party or great weekend movie snack, enjoy these quesadillas with your favorite Mexican topping.
Ingredients
1 cup shredded cooked chicken
2/3 cup sour cream
1/3 cup mayonnaise
1/4 cup sliced green onions
6 ounces (1 1/2 cups) cheddar cheese, shredded
1 (15 to 16-ounce) can black beans, rinsed, drained
2 tablespoons chopped green chiles, drained
12 (8-inch) flour tortillas
2 tablespoons butter, melted
Directions
Preheat the oven to 375 degrees.
Place the chicken, sour cream, mayonnaise, green onion, cheese, black beans and chiles in a bowl and stir to combine.
Spoon about 1/4 cup of the filling onto each tortilla, and spread evenly.
Fold each tortilla in half, brush with butter, and then place on a baking sheet in the oven for 12 minutes.
Cut the quesadillas into 3 wedges and serve warm.