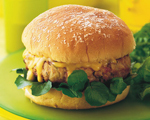 Prep: 40 min
Cook Time: 14 min
Total: 54 min
Serving: Makes 4-6 servings
After a trip to the local orchard, use the fresh apples and cider to make these delicious and low-fat fall-inspired burgers.
Ingredients
1 cup apple cider
2-1/4 pounds chicken thighs
2 large green apples, peeled
2-1/2 teaspoons salt
1 teaspoon freshly ground pepper
1 teaspoon sage
1/2 teaspoon thyme
1/8 teaspoon ground cinnamon
1/8 teaspoon ground ginger
3 tablespoons olive oil
Directions
In a small saucepan bring the cider to a boil and cook until it reduces to 3 tablespoons of syrup
Remove the bones and skin from the chicken thighs; reserve the skin.
Using a food processor, process the chicken with the dried apples. Remove the mixture and place into a large bowl. Add the syrup, salt, pepper, sage, thyme, cinnamon and ginger.
Using your hands, mix the chicken mixture until well blended and then form into patties.
In a medium-sized sauté pan, heat the oil over medium-high heat until hot but not smoking. Add the patties and cook for 6-7 minutes on each side or until medium-brown.