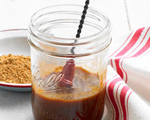 Prep: 5 min
Cook Time: 20 min
Total: 25 min
Serving: Makes 3 cups of sauce
Steak sauce doesn't get any more authentic then this. Use it on all your grilled meats for rich and bold flavor.
Ingredients
2 tablespoons olive oil
1/2 cup chopped onion
1 tablespoon brown sugar
1 tablespoon sweet smoked Spanish paprika
1 tablespoon sweet Hungarian paprika
1 tablespoon dry mustard
2 tablespoons Worcestershire sauce
1 cup cola
1 cup Spicy Hot V8 juice
3/4 cup ketchup
1/4 cup bourbon
1/4 cup rice vinegar
1 tablespoon reduced-sodium soy sauce
Directions
Place the olive oil, onion, and brown sugar into a large saucepan over medium heat and whisk to combine.
Stir in the sweet smoked Spanish paprika, sweet Hungarian paprika, and dry mustard, and then cook the mixture until the onions are fragrant.
Add the Worcestershire sauce, cola, and Spicy hot V8 juice, ketchup, bourbon, rice vinegar, and reduced-sodium soy sauce, stir and bring to a boil.
Once the mixture begins to boil, reduce the heat to medium-low and simmer the mixture for 15 minutes.