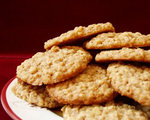 Prep: 20 min
Cook Time: 12 min
Total: 32 min
Serving: 3 Dozen
Chewy oatmeal cookies make a great treat and go perfectly with a class of milk.
Ingredients
1 cup butter, softened
1 cup packed brown sugar
1/2 cup white sugar
2 eggs
2 teaspoons vanilla extract
1 1/4 cups all-purpose flour
1/2 teaspoon baking soda
1 teaspoon ground cinnamon
1/2 teaspoon nutmeg
1 teaspoon salt
3 cups quick cooking oats
Directions
Preheat oven to 325 F.
In a large bowl, beat together butter, brown sugar, and white sugar until fluffy. Then beat in eggs one at a time and stir in vanilla. In a separate bowl,combine the flour, baking soda, salt, nutmeg, and cinnamon.
Stir dry mixture into the wet mixture. Mix in oats just until blended. Place heaping teaspoonfuls of dough onto ungreased cookie sheets.
Bake for about 12 minutes until golden brown and cool on a wire rack.