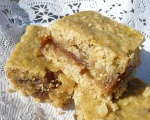 Prep: 20 min
Cook Time: 20 min
Total: 40 min
Serving: 16 bars
Ooey-gooey chewy date bars.
Ingredients
Vegetable oil spray
1 (8 ounce) can pears in juice
2 eggs
1/3 cup vegetable oil
1 1/2 cups flour
1 cup rolled oats
2 teaspoons baking powder
16 pitted dates
1-2 teaspoons water or fruit juice
Directions
Preheat the oven to 350 degrees Fahrenheit. Grease 2 8-inch cake pans with the vegetable oil spray.
Blend the pears until smooth. Pour into a bowl and mix in the eggs and oil until creamy. Add flour, oats and baking powder, beat until well mixed.
Pour the mixture evenly into both pans. Bake for 20 minutes. Remove from pan and allow to cool.
Blend the dates until thick and pasty, and enough liquid to make spreadable.
Spread the date mixture over one cake square and top with the other cake square. Cut into squares.