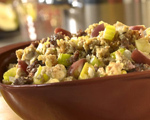 Prep: 10 min
Cook Time: 45 min
Total: 55 min
Serving: 12
Stuffing is a quintessential accompaniment for the holiday turkey -- but pairs equally well with other poultry dishes. Crunchy bits of apple and chopped chestnuts nestled in the soft crumb of cornbread deliver a delightful contrast in textures and a rich satisfying taste.
Ingredients
12 cornbread muffins
1 cup chopped apple
1 cup finely chopped green onions
1 cup chopped roasted chestnuts
1 cup chopped fresh parsley
2 teaspoons dried thyme
1/2 teaspoon salt
Black pepper to taste
2-1/2 cups chicken broth
Directions
Preheat your oven to 400 degrees F and coat a large (13 x 9) 2-inch baking dish with cooking spray.
Crumble cornbread into a large bowl.
Add the apple, onion, chestnuts, parsley, thyme, salt and black pepper and stir with a wooden spoon to combine. Pour in the chicken broth and stir until well moistened. If you want a wet stuffing, add more chicken broth. Transfer to the prepared baking dish and cover with foil.
Bake for 30 minutes.
Remove the foil and bake another 15 minutes or until the top is lightly browned.