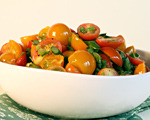 Prep: 10 min
Cook Time: 3 min
Total: 13 min
Serving: 4 Servings
Garlic Scapes are the delicious flower stems that grow from a garlic bulb. They are a very versatile and nutritious ingredient widely used in French and Asian cuisine.
Ingredients
3 tablespoons extra virgin olive oil
8 young garlic scapes, cut on the diagonal in 1/8-inch slices (about 1 cup)
1/2 small bunch fresh chives, cut in 1/4-inch pieces (about 1/4 cup)
1-1/2 pounds assorted cherry tomatoes (4 cups), halved
1/2 teaspoon sea salt or to taste
freshly ground black pepper to taste
Directions
Place the olive oil into a large sauté pan over medium-high heat. Once the oil begins to shimmer, add the garlic scapes and sauté for 2 minutes.
Stir in the chives, tomatoes and a few pinches of salt and pepper, and cook the mixture for 1 minute, stirring frequently. Transfer the tomato mixture to a plate and serve immediately.