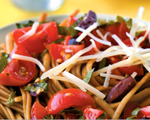 Prep: 30 min
Cook Time: 40 min
Total: 1 hr 10 min
Serving:
Enjoy this heart-healthy dish with a warm red wine.
Ingredients
3 cups cherry tomatoes, quartered
1/4 cup plus 1 tablespoon extra-virgin olive oil, divided
2 garlic cloves, minced
1/2 cup kalamata olives, pitted and coarsely chopped
Salt
1/2 teaspoon crushed red pepper flakes
3/4 pound whole-wheat linguine
1/2 cup freshly grated Parmigiano-Reggiano
1/2 cup fresh basil leaves, coarsely chopped
Directions
In a medium mixing bowl, combine tomatoes, 1/4 cup of the olive oil, garlic, olives, salt, and red pepper. Let mixture sit at room temperature for at least 30 minutes.
Cook linguine in a large pot of boiling water until al dente. Drain pasta into a large colander, then transfer to a large bowl.
Toss linguine with the remaining 1 tablespoon of olive oil and the Parmigiano-Reggiano. Place the tomato mixture in a sieve over a bowl to drain excess liquid, then lightly toss the mixture with the pasta. Add the basil, toss again, and serve.