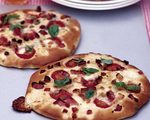 Prep: –
Cook Time: –
Total: –
Serving: Makes 1 pizza
Cooked to mouthwatering perfection over the flame, grilled pizzas are becoming the preferred method of preparing one of America's" favorite foods. Weinstein and Scarbrough describe this pizza as "summery simplicity."
Ingredients
Yellow cornmeal to dust pizza peel
1 pound fresh or frozen pizza dough
1 tablespoon olive oil
2 ounces pancetta, diced
6 tablespoons pesto
6 ounces shredded mozzarella
15 cherry tomatoes, halved
1 ounce finely grated Parmigiano-Reggiano
Directions
Preheat pizza stone on a gas grill at medium, indirect heat (about 400 degrees F.) or over an indirect, medium-heat coal bed in a charcoal grill for 30 to 45 minutes. Dust a pizza peel with cornmeal. Form dough into a large circle until it is 14 inches in diameter and set it floured-side down on the peel.
Slide dough from the peel onto the very hot pizza stone and grill with the lid closed until lightly browned, about 12 minutes. Air bubbles may arise over the crust while it bakes, pop these with a fork to assure an even crust. Slide the peel back under the crust to get it off the stone and transfer to a wire rack.
Pour olive oil into a small skillet and set it over medium heat. Add pancetta and cook, stirring often, just until the fat has barely begun to turn translucent and the edges are a little sizzled, about 3 minutes. Set aside. Spread pesto evenly over the curst, leaving a 1/2-inch border at its edge. Top with shredded mozzarella.
Place cherry tomatoes cut-side up across the pie in a decorative pattern. Sprinkle the diced pancetta over the top, then sprinkle on the grated Parmigiano. Slide pie from the peel to the hot stone (take care to not dislodge the tomatoes). Grill with the lid closed until the crust is golden and the pancetta is sizzling and cooked through, 16 to 18 minutes. Use a fork to pop any air bubbles that may spring up at the edges or in the middle of the crust.
Slip pizza back onto the peel to remove it from the stone. Cool for 5 minutes before slicing. If you want to ensure that the crust stays crispy, slip pizza off the peel and place it right on the wire rack before cooling.