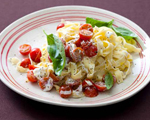 Prep: 10 min
Cook Time: 10 min
Total: 20 min
Serving: 4 Servings
Cherry tomatoes add just the right amount of sweet taste to compliment the creamy goat cheese in this simple pasta dish.
Ingredients
1 cup cherry tomatoes (about 1 pint)
3 ounces soft goat cheese, cut into pieces
1/4 teaspoon freshly ground black pepper
2 tablespoons extra-virgin olive oil
1 teaspoon sea salt
12 ounces fettuccini
1/2 cup finely chopped basil leaves plus several leaves or sprigs for garnish
Directions
Cook the pasta al dente according to package directions and drain.
In the meantime, cut each of the tomatoes in half and place into a pasta bowl. Add the pieces of cheese and top with the oil and the fresh pepper.
Place the drained pasta into the prepared pasta bowl and toss with the other ingredients. Sprinkle with the salt, toss once more and then garnish with the chopped basil. Serve immediately.