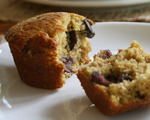 Prep: 10 min
Cook Time: 18 min
Total: 28 min
Serving: Makes 24 muffins
These cherry bran and wheat germ muffins are low-fat, flavorful and simple to make. Make an extra batch and place in the freezer, as these muffins freeze very well.
Ingredients
3 large eggs
1 cup brown sugar
1/2 cup walnut oil or canola oil
2 cups buttermilk
1 teaspoon pure vanilla extract
1/2 teaspoon almond extract
1/2 cup wheat germ
1 1/2 cups oat bran
2 cups all-purpose flour
2 teaspoons baking powder
2 teaspoons baking soda
1/2 teaspoon salt
2 cups quartered fresh pitted cherries
Directions
Preheat the oven to 400 degrees and grease a muffin tin with butter or oil.
Sift the flour, baking powder, baking soda and salt into a bowl and then set aside.
Place the eggs into another bowl and beat well until light and frothy. Stir in the brown sugar and then add the oil, buttermilk, vanilla and almond extract. Whisk the mixture vigorously to blend and then stir in the wheat germ and the oat bran.
Add the dry mixture to the egg mixture, stir to combine and then mix in the cherries.
Transfer the batter to the prepared muffin tin and then place in the oven for about 18 minutes. Cool the muffins for 5 minutes before removing from the tin.