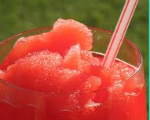 Prep: 8 hr
Cook Time: –
Total: 8 hr
Serving: 6 servings
A perfect summer treat, a cherry and raspberry slush! Use fresh or frozen fruit, if frozen thaw before beginning.
Ingredients
1 1/2 cups raspberries
2 cups unsweetened pitted dark sweet cherries
1 (6 oucne) can frozen apple juice concentrate, thawed
1 (24 ounce) bottle 7-Up, chilled
Directions
Blend the raspberries until smooth, strain out the seeds. Place into a bowl.
Blend the cherries and the apple juice until smooth. Add to the bowl.
Mix together.
Cover and freeze (for up to 2 months)
When ready to serve, use a spoon to scrape 3/4 cup worth of the frozen fruit mix into a cup. Add 1/2 cup of 7-Up and enjoy!