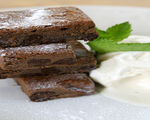 Prep: 15 min
Cook Time: 25 min
Total: 40 min
Serving: 10
Who doesn't love brownies?
Ingredients
2 Sticks of Unsalted Butter
4 oz. Unsweetened Baking Chocolate (chopped)
4 Large Eggs
2 Cups of Sugar
1 ¼ Cups All Purpose Flour (divided)
1 tsp. Baking Powder
1 tsp. Salt
1 ½ tsp. Vanilla Extract
½ tsp. Almond Extract
¾ Cup Semi-Sweet Chocolate Chips
¾ Cup Bittersweet Chocolate Chips
Directions
COOKING:
1) Preheat your oven to 350 degrees. Grease and flour coat a 9x13 baking dish then set aside. You can do that by hand or use the spray can version such as Baker's Joy®. Put your chocolate chips in a bowl with just ¼ cup of your flour then toss with your hands to coat the chips. Set aside.
2) In a small saucepan over medium low heat, combine your butter and chocolate. Take your time warming this up. Stir occasionally until the chocolate has melted completely then turn off the heat and set aside to cool.
3) Combine your remaining 1 cup of flour with your baking powder and salt then sift or mix it together with a whisk. Set aside.
4) In a mixer with the paddle attachment, combine your eggs and sugar then turn the mixer on to medium high speed for about 3-4 minutes. Turn mixer off then add your melted chocolate/butter combo. Turn mixer back on to combine then shut it off again and add your flour. Run on medium low speed now. While the flour is mixing in, add the two extracts. Don't run the mixer for more than 30-45 seconds. Finally, add the chocolate chips and run on slow for about 10-15 seconds. Pour mixture in your coated baking dish then put in your oven for exactly 25 minutes.
5) Remove brownies from oven then let cool (uncovered) on your counter for 1 hour. Cover them with a towel then put in the fridge for at least 2 hours before serving.
Cooks Notes: You can mix and match your chocolate chips any way you want, just don't exceed 1 ½ cups total. If you don't like almond extract, use 2 tsp. of vanilla by itself. Finally, if you like nuts with your brownies simply use about 1 cup of your favorite (chopped) and sprinkle over the top of the dough after you've poured it in the baking pan.