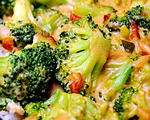 Prep: 15 min
Cook Time: 40 min
Total: 55 min
Serving: 12
Cheezy Broccoli is an easy way to get picky eaters to try veggies.
Ingredients
2, 10 ounce packages frozen chopped broccoli
2 cups Minute rice
2 cans cream of chicken soup
1 cup milk
1, 16 ounce jar Cheez Whiz
1 tablespoon salt
1/2 teaspoon pepper
1/2 cup onion, chopped
1 cup celery, chopped
1 can water chestnuts, sliced and drained
Directions
Cook unopened broccoli in microwave for 4 to 5 minutes, turning over after 2 minutes. Drain broccoli, separate stalks and set aside. Combine the next 6 ingredients in large microwave dish. Cook for 2 to 4 minutes or until cheese melts.
Add 3/4 cup water, onion, celery, water chestnuts and broccoli, stirring thoroughly. Spoon into 2 lightly greased 10 by 6 inch microwave dishes. Cook 1 at a time, for 12 to 14 minutes, rotating after 5 minutes. Let stand for 5 minutes before serving.