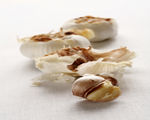 Prep: 1 hr
Cook Time: 1 hr
Total: 2 hr
Serving: 12
Delicious and lower in carbs than traditional recipes.
Ingredients
8 ounces soya powder
4 ounces wheat gluten
1 tablespoon baking powder
1 rounded teaspoon of dry active yeast
1/4 cup freshly grated Parmesan
1/2 tablespoon finely chopped fresh rosemary
4 tablespoons unsalted butter
4 garlic cloves, chopped
1/4 teaspoon pepper
1 cup shredded Monterey Jack
1/2 cup shredded mozzarella cheese
1/4 cup freshly grated Parmesan
Directions
For the rosemary sourdough: Line a baking sheet with greased foil and set aside. Prepare bread mix according to package directions (for conventional oven), adding the Parmesan and rosemary with the dry ingredients.
Let bread rise. After the first rise, turn out dough onto work surface and, using a rolling pin, roll into a 16x5-inch rectangle.
From the long side, roll the dough into a 16-inch cylinder, pinching seam to seal. Place, seam-side down, on prepared baking sheet. Cover with oiled plastic and set aside in a warm, draft-free place until almost doubled in bulk, 2 to 2 1/2 hours.
Heat oven to 350 degrees F. Remove plastic from dough and, using a sharp knife, make diagonal slashes down the center of the bread. Bake until golden and bread sounds hollow when tapped on bottom, 40 to 45 minutes.
Transfer to a wire rack to cool. (Can be made up to 2 days ahead. Store in an airtight container in a cool place.)
For garlic-cheese topping: In a small saucepan, melt butter over medium heat. Add garlic and cook until golden, stirring occasionally, 3 minutes.
Heat oven to 450 degrees F. Using a serrated knife, cut the bread in half horizontally. Place bread halves, cut-side up, on same baking sheet. Brush with butter mixture and sprinkle with pepper. Bake 10 minutes.
Remove from oven and evenly sprinkle Monterey Jack, mozzarella and Parmesan over tops. Bake until cheese is melted and golden, 6 minutes more. Cut each half crosswise into 12 equal pieces and serve immediately.