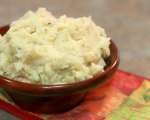 Prep: 15 min
Cook Time: 25 min
Total: 40 min
Serving: 4
Chipotle in adobo sauce is made from smoke-dried jalapenos in a flavorful spiced red sauce. Enjoy its spicy flavor in this recipe for mashed potatoes.
Ingredients
1-1/2 pounds baking potatoes (such as russet or Yukon gold), peeled and quartered
1/2 teaspoon salt
2 tablespoons butter
4 tablespoons milk
1/4 cup shredded smoked cheddar
1 teaspoon chipotle in adobo sauce, finely chopped
Salt
Freshly ground black pepper
Butter
Chives and butter to garnish
Directions
Place the potatoes into a large pot and cover with water. Sprinkle in a few pinches of salt, cover the pot and bring mixture to a boil over high heat.
Boil the potatoes for 25 minutes, carefully drain and place back into the pot.
Add the butter and milk to the potatoes and beat the mixture with a large fork or potato masher. Season to taste with salt and freshly ground black pepper then add the cheddar cheese and chipotle, and continue to mash until reaching desired consistency.
Transfer the mashed potatoes to a serving bowl and garnish with a pat of butter.