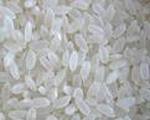 Prep: 15 min
Cook Time: 1 hr 15 min
Total: 1 hr 30 min
Serving: 6
Cheesy Chicken Rice Souffle is a great way to use canned or leftover chicken.
Ingredients
1/3 cup regular long grain rice
2 tablespoons butter
3 tablespoons flour
1/4 teaspoon salt
1/8 teaspoon pepper
3/4 cup milk
1/2 pound Cheddar cheese, shredded
4 eggs, separated
1, 6 3/4 ounce can chunk chicken, drained and flaked
Directions
Prepare rice as package directs.
Preheat oven to 325 degrees F. In 2 quart saucepan over low heat, melt butter. Stir in flour, salt, and pepper until blended. Gradually stir in milk; cook until mixture is slightly thickened and smooth, stirring constantly. Stir in cheese; cook, stirring, just until cheese melts. Remove saucepan from heat.
In small bowl with fork, beat egg yolks slightly; stir in a small amount of hot cheese sauce. Slowly pour egg mixture back into sauce, stirring rapidly to prevent lumping. Cool slightly.
In large bowl with mixer at high speed, beat egg whites until stiff peaks form. With rubber spatula, gently fold in cheese mixture, on third at a time, into egg whites just until blended. Gently fold rice and chicken into mixture.
Pour mixture into a 1 1/2 quart ungreased souffle dish. With back of spoon, about 1 inch from edge of dish, make 1 inch deep indentation all around the souffle mixture. This make a top hat effedt when the souffle is done. Bake 55 to 60 minutes until knife inserted under top hat comes out clean.