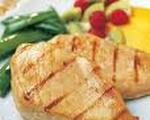 Prep: 25 min
Cook Time: 50 min
Total: 1 hr 15 min
Serving: 6
Spiced with jalapeno peppers, Cheesy Chicken Enchilada Casserole, is full of flavor and a little zesty kick.
Ingredients
1/4 cup pecans, chopped
1/4 cup onion, chopped
1 tablespoon butter
1, 3 ounce package cream cheese, softened
1 tablespoon milk
1/4 teaspoon ground cumin
2 cups cooked, chopped chicken
6, 8 inch flour tortillas
1, 10 3/4 ounce can condensed cream of chicken soup
1, 8 ounce carton sour cream
1 cup milk
6 pickled jalapeno peppers, rinsed, seeded, chopped
1 cup Cheddar cheese, shredded
2 tablespoons pecans, chopped
Directions
In a medium skillet cook the 1/4 cup pecans and onion in butter until onion is tender and pecans are lightly toasted. Remove from heat.
In a bowl combine the cream cheese, the 1 tablespoon milk and cumin. Add nut mixture and chicken. Stir together until well combined.
Spoon about 1/3 cup chicken mixture onto each tortilla near one edge; roll up. Place filled tortillas, seam side down, in a greased 2 quart square baking dish.
In a bowl combine soup, sour cream, the 1 cup milk and the pickled jalapeno peppers. Pour the soup mixture evenly over the tortillas in the baking dish. Cover with foil. Bake at 350 degrees F for about 45 minutes or until heated through.
Remove foil. Sprinkle enchiladas with cheese and the 2 tablespoons pecans. Bake for 4 to 5 minutes more or until cheese is melted.