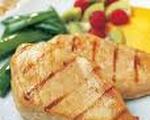 Prep: 1 hr 15 min
Cook Time: 50 min
Total: 2 hr 5 min
Serving: 6-8
Monterey Jack and Parmesan come together to flavor Cheesy Chicken Breasts.
Ingredients
4 large chicken breasts, boned, skinned and halved
1 egg, beaten
1 cup prepared bread crumbs
1/4 cup Parmesan cheese, grated
1 cup white wine
4 ounces Monterey Jack cheese, shredded
dash thyme
dash pepper
1 large jar mushrooms, sliced
Directions
Mix together bread crumbs and Parmesan cheese. Remove fat from chicken and soak in cold water about 30 minutes.
Drain and dry. Dip in egg, then in bread/cheese mixture. Brown in oil. Lay in single layer in casserole.
Brown large jar of mushrooms in pan chicken was browned in. Add white wine and simmer 5 minutes.
Pour wine and mushrooms over chicken. Sprinkle with thyme and pepper. Sprinkle shredded cheese over the top.
Bake at 350 degrees F for 45-50 minutes.