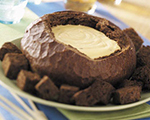 Prep: 20 min
Cook Time: 12 min
Total: 32 min
Serving: About 2 cups
This three-cheese dip is sure to be a hit among all your Sunday night football fans. Serve with tortilla chips and frosty cold beers.
Ingredients
1 round dark rye bread loaf
1 cup beer
1 tablespoon cornstarch
1 tablespoon water
2 cups (8 ounces) sharp cheddar cheese, grated
1 ounce cream cheese, cut into pieces
1 ounce blue cheese, crumbled
1/2 teaspoon Dijon mustard
1/2 teaspoon Worcestershire sauce
Directions
Make the bread bowl by slicing 1 inch off the top of the bread loaf and removing the soft middle. Leave approximately 1-inch of thickness all around. Cut the removed bread into pieces and reserve for dipping.
In a large saucepan over medium heat, pour in the beer and bring to a simmer.
Meanwhile, in a small bowl mix together the cornstarch and the water until cornstarch is dissolved.
Pour into the saucepan with the beer and whisk for 2 minutes until mixture becomes thick.
Reduce the heat to low and slowly mix in the cheddar, cream cheese and blue cheese one at a time, making sure each cheese fully melts before the next one is added into the pan.
Add in the mustard and Worcestershire sauce and stir to mix.
Pour the dip into the prepared bread bowl and serve hot with the bread pieces and tortilla chips.