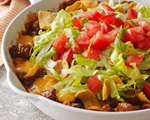 Prep: 10 min
Cook Time: 15 min
Total: 25 min
Serving: 6 Servings
Your kids are going to love this simple dinner dish as it tastes and looks just like a giant taco. It is also a wonderful main meal sure to please at a kid's party.
Ingredients
1 pound ground beef
1 small onion, chopped
3/4 cup water
1 package Taco Seasoning Mix
2 cups corn chips
1-1/2 cups Mexican mix shredded cheese
2 cups lettuce
2 tomatoes
Directions
Place the ground beef and the chopped onion in a large skillet over medium-high heat and cook until the beef is browned. Stir in the taco seasoning mix and cook according to package directions.
Sprinkle the cheese and the chips over the meat, cover the pan and cook the mixture for 6 minutes; transfer to a large dish.
Top the meat and cheese mixture with the lettuce and tomatoes and serve immediately.