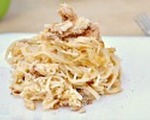 Prep: 10 min
Cook Time: 25 min
Total: 35 min
Serving: Serves about 8 People
Want an easy way to sneak some protein into your family's favorite side dish, mac n' cheese? Whip up this cheesy baked chicken pasta! Made with delicious slow-cooked shredded chicken, pasta noodles and homemade macaroni and cheese sauce -- this is the perfect protein-packed dinner for those days you want some cheesy comfort food.
Ingredients
12 ounces angel hair pasta
1 cup slow roasted shredded chicken
2 tablespoons butter
1 medium onion, finely chopped
1/3 cup flour
1 cup milk
1-1/2 cups low-sodium chicken broth
1/2 cup light cream
1 cup part-skim cheddar cheese
1 cup part-skim mozzarella cheese
Dash of Parmesan cheese
4 fresh basil leaves, chopped
1/2 cup breadcrumbs
Liberal dashes of salt and pepper
Directions
Preheat your oven to 375 degrees F. Grease an 8 x 8-inch baking dish with non-stick cooking spray and set aside. Cook the pasta according to the package directions until al dente, about 4 - 6 minutes. Rinse and set aside.
In a 3-quart sauce pan, heat the butter over medium-low heat. Add the flour and stir with a whisk until combined. (Mixture will be thick.) Add in the onion and cook until softened, about 3 minutes. Whisk in the milk, cream and chicken broth and bring mixture to a boil. Add the salt and pepper. Reduce the heat to low and cook until the sauce is thick, about 5 minutes.
Remove from heat and stir in the cheeses, chicken and basil. Gently mix in the pasta. Serve warm with breadcrumbs.