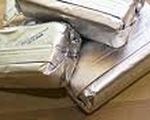 Prep: 16 hr 25 min
Cook Time: 45 min
Total: 17 hr 10 min
Serving: 8
Cheesecake with Raspberry Sauce is a delicious treat garnished with rose petals and mint leaves.
Ingredients
2, 8 ounce packages cream cheese, softened
1/2 cup sugar
3 large eggs
3 tablespoons fresh lemon juice
1 1/2 teaspoons vanilla
1/4 teaspoon salt
3 cups sour cream
mint sprigs and rose petals for garnish
Raspberry Sauce: 1 teaspoon lemon juice
1 package frozen raspberries, thawed
2 tablespoons sugar
Directions
Preheat oven 350 degrees F.
In a large mixing bowl, beat the cream cheese and sugar until very smooth, about 4 minutes. Add the eggs, one at a time, beating well after each addition. Add the lemon juice, vanilla and salt. Beat in the sour cream until just blended.
Grease an 8 inch springform pan with 2 1/2 inch sides and line the bottom with greased parchment or waxed paper. Wrap the outside of the pan with a double layer of foil to prevent seepage.
Pour the batter into the pan. Set the pan in a large roasting pan and surround with 1 inch of very hot water. Bake for 45 minutes. Turn off the oven without opening the door and let cake cool for 1 hour.
Remove to a rack and cool to room temperature, about 1 hour. Cover with plastic wrap and refrigerate overnight. Unmold the cake onto a plate and garnish with mint and rose petals.
For Sauce: Combine all ingredients in a blender until pureed. Serve the sauce on the side.