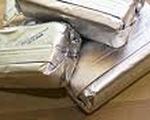 Prep: 10 min
Cook Time: 45 min
Total: 55 min
Serving: 10
Cheesecake Diamonds are a dessert lover's best friend.
Ingredients
5 tablespoons butter, softened
1/3 cup brown sugar
1 cup flour, sifted
1/4 cup pecans, chopped
Topping: 1/2 cup sugar
1, 8 ounce package cream cheese, softened
1 egg
2 tablespoons milk
1 tablespoons lemon juice
1/2 teaspoon vanilla
Directions
Cream butter and brown sugar. Add flour and pecans, mix well. Set aside 1 cup mixture for topping. Press remainder in bottom of an 8 by 8 inch square baking pan. Bake at 350 degrees F for 12-15 minutes.
Blend sugar and cream cheese until smooth. Add egg, milk, lemon juice and vanilla. Beat well. Spread over crust; Sprinkle with the reserved topping. Return to oven and bake 30 minutes more. Cool. Then chill well before cutting into diamonds.