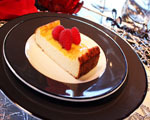 Prep: –
Cook Time: 30 min
Total: 30 min
Serving: 6 people
Greek yogurt gives this cheesecake recipe a delicious flavor.
Ingredients
2 cups low-fat dry-curd cottage cheese
3 eggs
1/2 cup ATHENOS Greek Strained Nonfat Yogurt
1/3 cup honey
1 tsp. lemon zest
1-1/2 tsp. vanilla
Directions
Heat oven to 350ºF.
Spoon cottage cheese into paper towel-lined strainer; let stand 1 hour, pressing occasionally with spatula to remove excess moisture.
Transfer cottage cheese to food processor.
Add remaining ingredients; process until smooth.
Pour into 9x5-inch loaf pan sprayed with cooking spray.
Bake 30 min. or until edges are lightly browned; cool completely.
Refrigerate several hours or until chilled.
Unmold before slicing to serve.
Nutrition Information Per Serving: 170 calories, 4g total fat, 2g saturated fat, 115mg cholesterol, 310mg sodium, 20g carbohydrate, 0g dietary fiber, 18g sugars, 13g protein, 6%DV vitamin A, 0%DV vitamin C, 15%DV calcium, 4%DV iron. Exchange: 1-1/2 Starch, 1 Meat (L) Dietary Exchanges (or Exchange Calculations) based on Choose Your Foods: Exchange Lists for Diabetes © 2008 by the American Diabetes Association and the American Dietetic Association.